Maharashtra power struggle: Ajit Pawar is angry?
"No comments, no comments. I am going to Baramati," exclaimed Ajit Pawar after leaving Sharad Pawar's Silver Oak bungalow.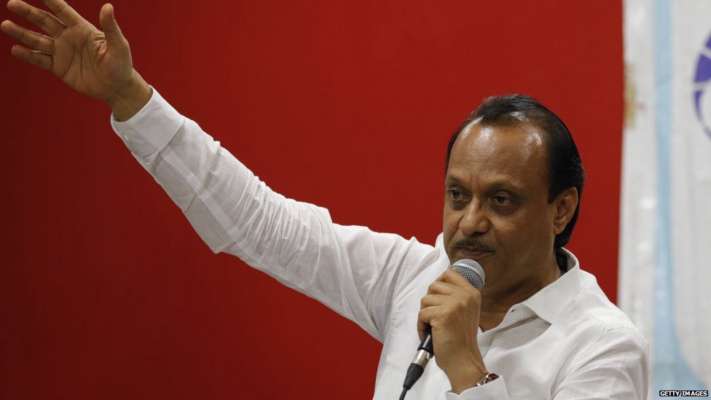 Ajit Pawar hurried out of Sharad Pawar's Silver Oak bungalow at 8pm on Wednesday (November 13) and boarded the car.
"No comments, no comments. I am going to Baramati," he said, irritating at the reporters' questions. Jayant Patil also sat in the car with them.
After that, the discussion started that Ajit Pawar was outraged at an important meeting of the front.
When Sharad Pawar was asked about this, he conveyed the same to reporters.
"Ajit Pawar has gone nowhere. He said in front of the media that he was trying to do this. He has no privacy in running behind you," said Sharad Pawar.
https://www.facebook.com/BBCnewsMarathi/videos/1032374450444613/
So, Ajit Pada is with me. He will go to Baramati tomorrow. Our meeting is well organized. There is no problem with it. We are working to give Maharashtra a stable and good government, "said NCP state president Jayant Patil.
"We will talk to the Shiv Sena only after discussing various issues like Maharashtra's projects, newly-laid, economic conditions," he added.
There was talk of a meeting of the Congress and NCP's coordinating committee meeting in the media shortly afterwards, and then some photos came into the media. But, the talk of power-sharing in the front had slipped as Ajit Pawar had left the meeting.
All right, that's ...?
We asked senior journalist Vijay Chormare about Ajit Pawar's reaction to the media.
He said, "It is not fair to say that the Shiv Sena-NCP and Congress ruling formula has not yet come up, so Ajit Pawar is angry. If you say the Chief Minister's office, the first two and a half years should be the Chief Minister. However, it will be for the next two and a half years Pawar are unwilling to sattavatapa per the formula, this conclusion can not be reached now. "
Senior Assistant Editor of the Lokmat Sandeep Pradhan said that Ajit Pawar is likely to be upset over the events that have taken place during the Lok Sabha and Assembly elections.
He says, "Power went out of the hands of NCP in 2014. Ajit Pawar's son, Parth Pawar was defeated in the 2019 Lok Sabha. Also, Chief Minister Padan, who came to power in 2004, gave a shout out to Ajit Pawar, seeing all these developments, Ajit Pawar may be upset."
'Stable government is the priority'
"An experienced politician like Ajit Pawar will strive for a stable government in the state today. In the last five years, Ajit Pawar has experienced how difficult it is to remain without power. Whether an irrigation scam inquiry, a crime lodged against a state government bank, Ajit Pawar's priority over the establishment. It will be, "says Pradhan.
"At present, the efforts of the NCP and the Congress parties will be to give a stable government. It is equally true that after the power allocation formula is decided, the post of Chief Minister says that Ajit Pawar will not be silent until he gets the post of Deputy Chief Minister. Have brought, "says senior journalist Sandeep Acharya.
All these rumors - NCP
"The talk of the front has slipped and news of Ajit Pawar being angry has fallen on his face afterwards, because after that, the front meeting was held. But, if there is a rumor gang, what will we do?" NCP spokesman Nawab Malik told the BBC. Told.
Talking about the negotiation of power, he said, "At present, the process of conciliation is underway at the NCP and the Congress party on the same minimum program."
What secrecy in it?
Responding to Ajit Pawar, NCP MLA Jitendra Awhad said, "Gavran goes a long way in talking about Ajit Dada. He has spoken only. He has said that to maintain some secrecy. Ajit Dada has not gone anywhere. He is from Mumbai."
But, you're going to a meeting, and what's wrong with telling such reporters. Thieves ask what kind of secrecy they have to follow.
Ajit Pawar had resigned the legislature before the Assembly elections. Political circles had begun to discuss why he had resigned while there were only a few days left to complete the form.